☆Event information of New Year's Day☆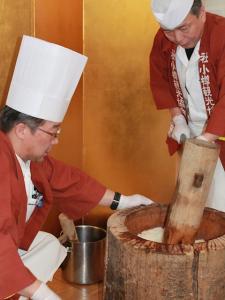 We held New Year's Day event at lobby from 8 am on 1st Jan 2020.

We pound steamed glutinous rice (mochigome) in a large mortar (usu) with a mallet (kinu) to make mochi sometime around the new year.

It is called "mochitsuki" and one of Japanese traditional ceremonies that take place around the new year.

Please feel free to join us and try "mochitsuki"everyone together.